CONFERENCE ON TERTIARY EDUCATION STATISTICS
The United Nations Educational, Scientific and Cultural Organisation (UNESCO)regional workshop on Higher Education Institutions Statistics for Eastern Africa
Read more...
Annual Quality Assurance For Higher Education Leaders- QAHEL Workshop
Director, Quality Assurance, Mr. Michael Wangai and Director, School of Biological Sciences, Prof. Paul Ndegwa of the University of Nairobi attend a two-day annual Quality Assurance for Higher Education Leaders (QAHEL) workshop in Lagos, Nigeria
Curriculum Review Workshop at Lukenya Getaway
Director, Quality Assurance, Mr. Michael Wangai and other members attend a two-day curriculum review workshop organized by the IGAD Secretariat Sheikh Technical Veterinary School (ISTVS)
A Visit And Benchmarking By Kyambogo University, Uganda
Kyambogo University pays a visit to the Directorate of Quality Assurance, UoN for benchmarking
UHIV Fellowship Curriculum Review Workshop
National Multiplication Training (Part Ii) For The Registrars In-Charge Of Academic In Public And Private Universities In Kenya
NATIONAL MULTIPLICATION TRAINING (PART II) FOR THE REGISTRARS IN-CHARGE OF ACADEMIC IN PUBLIC AND PRIVATE UNIVERSITIES IN KENYA
Academic Division Team Building Exercise 2018
Submitted by rmulwa on Tue, 12/11/2018 - 11:26
Location / Venue:
Chancellors Court Sports Field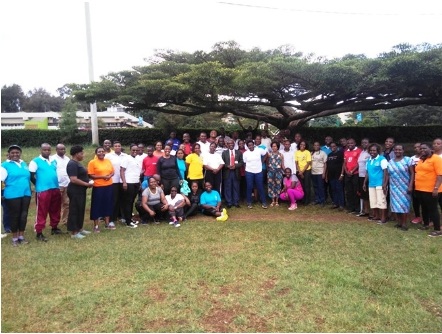 Members of Staff of the Academic Division held their Team Building Exercise on 7th December, 2018. The ocassion was graced by the Deputy Vice Chancellor in charge of Academic Affairs Prof. Julius Ogeng'o and the Section Heads of the Examinations, Admissions, Deans & Senate as well as the Quality Assuarance.